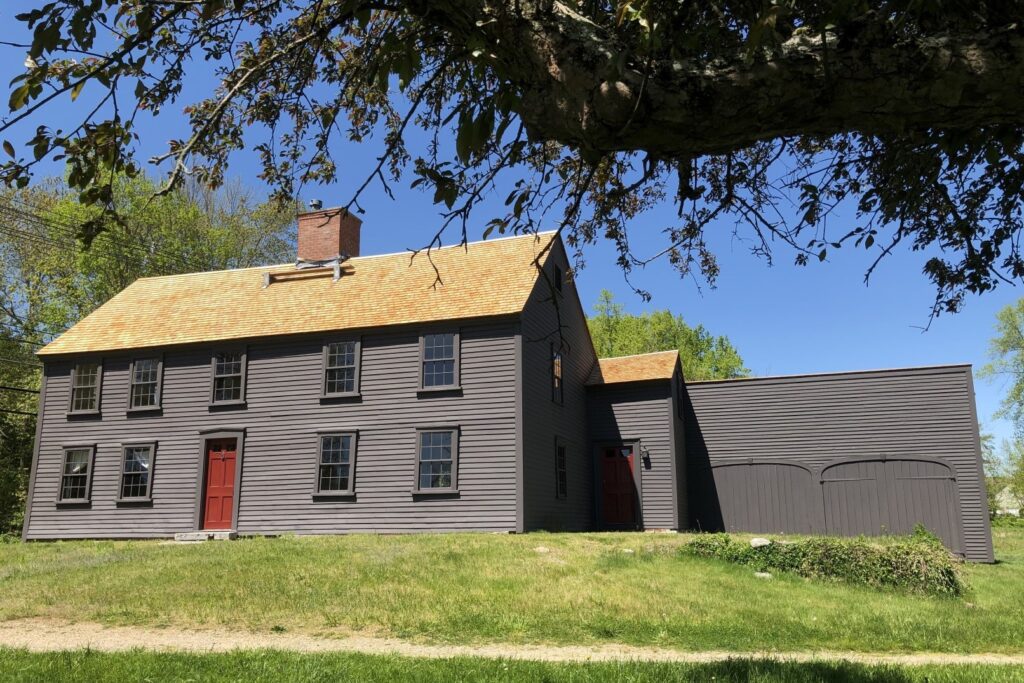 The Friends of Minute Man National Park are proud to support the preservation of the Meriam House located at Minute Man National Historical Park. The Friends maintain a restricted donation account to support preservation projects undertaken by the Park. We are thankful to the many members of the Meriam/Merriam Family and other supporters for donating to this special fund. Projects supported by this fund include window and floor restoration along with the purchase of period furniture. A new roof (pictured above) was installed in 2020 with National Park Service funding.
The Nathan Meriam House was built in 1705. A fierce fight ensued at Meriam's Corner on April 19, 1775 with militiamen from the towns of Reading, Chelmsford, and Billerica firing upon the British and inflicting casualties as they retreated from the North Bridge in Concord to Boston.
The house is located on Rt. 2A on Lexington Road at the corner of Old Bedford Road in Concord, MA, known as "Meriam's Corner." You may explore the grounds year-round from dawn to dusk. The house is not open to the public, except on the Saturday two weeks before Patriot's Day for the "Meriam's Corner Exercise." The event includes a parade, remarks, fife and drum corps music, as well as rifle and cannon salutes. Parking is available at the Meriam's Corner Parking Lot, about a 5-minute walk to the Meriam House. Click here for a park map.
To learn more about the history of the Meriam House, please visit the NPS website.
To explore Meriam/Merriam Family genealogy, please visit the Merriam Family Tree website or Facebook page.
To dig deeper and research primary documents, search the Concord Public Library special collections.
Donate to the Meriam House Preservation Fund today!
Your donation is restricted to use on the Meriam house and landscape. The Friends of Minute Man is a non-profit 501(c)3 organization and you will receive a thank you and acknowledgment for tax purposes.
You may mail a check to the Friends of Minute Man National Park at 174 Liberty Street, Concord, MA 01742; please write "Meriam House" in the memo. To donate securely with a credit card, please click on the PayPal button below. Please note that PayPal displays our official non-profit name "Minute Man National Park Association."
Thank you for your support!