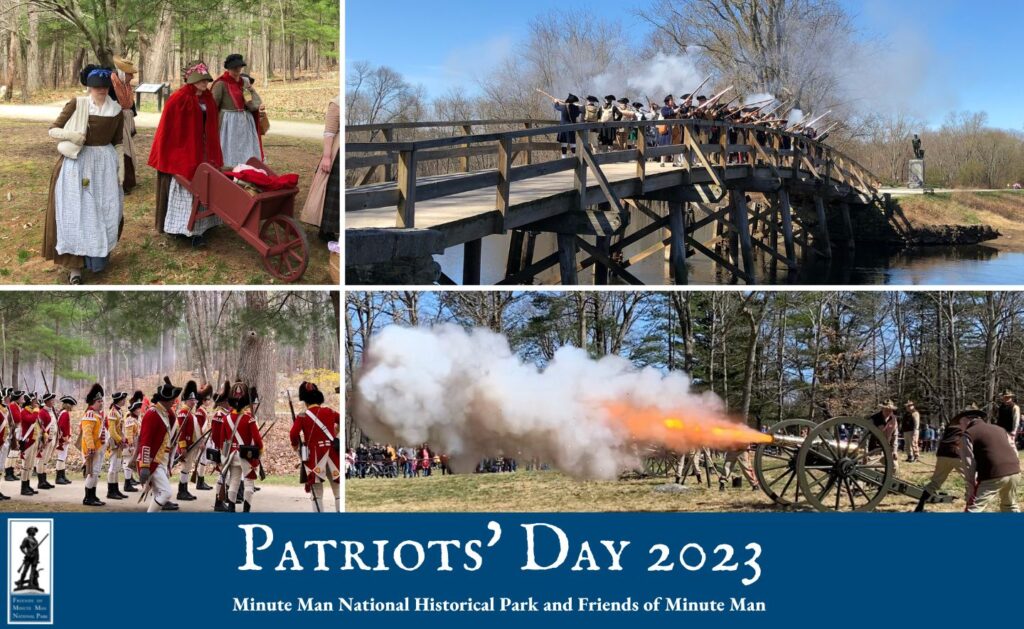 Join us for Patriots' Day 2023! Minute Man National Historical Park will offer an array of free in-person Patriots' Day events co-sponsored by the Friends of Minute Man National Historical Park. Please consult the Minute Man National Historical Park Calendar of Events for more information on each event. To help find your way, please visit the park Directions page for maps and GPS coordinates.
Become a sponsor and support this popular event! Click here for more sponsorship information. Friends of Minute Man is pleased to thank our generous 2023 Patriots' Day sponsors.
Saturday, April 8, 2023
"Meriam's Corner Exercise"
Meriam's Corner, 24 Old Bedford Road, Concord MA
Time TBD
Free
The Town of Concord, joined by local fife and drum ensembles, minute men, and the Concord Independent Battery commemorate the fighting that occurred at Meriam's Corner in Concord on April 19, 1775 that marked the start of the running battle back to Boston.
"Paul Revere Capture Ceremony"
Paul Revere Capture Site, 180 North Great Rd, Lincoln, MA
Time TBD
Free
The Lincoln Minute Men, joined by other reenactment units, observe the historic capture of Paul Revere with fife and drum music, a theatrical performance, and a musket fire salute.
Saturday, April 15, 2023 – Battle Road
"Explore the Elm Brook Hill (Bloody Angle) Battle Site with Edmund Foster"
Meet at Hartwell Tavern, 136 North Great Rd, Lincoln, MA
Time TBD
Free
Edmund Foster, a militiaman from Reading Massachusetts (portrayed by park volunteer, Ed Hurley) will lead a tour to this key battle site where he fought on April 19, 1775. He will be joined by Lincoln historian and author Don Hafner.
"Caught in the Storm of War: The Civilian Experience of April 19, 1775"
Hartwell Tavern and Captain William Smith House, 136 North Great Rd, Lincoln, MA
Hartwell open 9:30 a.m. – 11:00 a.m.
Smith House open 9:30 a.m. – 11:45 a.m.
Free
If you had to leave your home in a hurry, uncertain of your return, what would you take with you? Learn about the local civilians on April 19, 1775 who struggled to save their families and belongings from the path of war. Meet living history volunteers at the Hartwell Tavern and the Captain William Smith House portraying Colonial civilians. Starting at 11:45 am, with the sounds of battle approaching, they will hastily close up the house and head off down the road. We invite you to join them and be a part of the scenario! Interact with the reenactors and learn the stories of ordinary women and men whose lives were suddenly upended by war.
"Battle Road Tactical Demonstration"
Meet at Minute Man Visitor Center, North Great Rd, Lexington, MA
12:45 p.m.
Free
Watch hundreds of British and Colonial Reenactors who will engage in a battle demonstration showing the running fight that took place along this deadly stretch of road on the border of Lincoln and Lexington. After the demonstration, you will have the opportunity to get up close and talk with these amazing volunteers and learn about British regulars and Colonial militiamen in great detail.
Sunday, April 16, 2023
"The Search of the Barrett Farm"
Colonel James Barrett House, 448 Barrett's Mill Rd, Concord, MA
1:30 p.m. – 4:30 p.m.
Free
Visit the home of Colonel James Barrett and talk with costumed park rangers and volunteers about colonial military preparations. Around 3:30 p.m. British soldiers will arrive and conduct a search of the property, looking for supplies.
Monday, April 17, 2023
"North Bridge Fight Commemoration"
North Bridge, Monument St, Concord, MA
8:30 a.m.
Free
Commemorate Patriot's Day with a dramatic Battle demonstration involving Colonial minute men, British regulars, and musket fire, marking the "shot heard round the world." Please note that the roads in Concord close at 8:30 a.m. so plan to arrive early.
Tuesday, April 18, 2023
"Patriot Vigil"
Lantern light procession starts at North Bridge Visitor Center, 174 Liberty St, Concord, MA
Ceremony at North Bridge, Monument St, Concord, MA
7:45 p.m.
Free
As darkness descends upon the North Bridge battlefield, we invite you to come and reflect on the events of April 19, 1775 and the meaning of liberty. The evening ceremony will feature a lantern-light procession, poetry, music, and a recitation of the names of the soldiers who gave their lives on that "ever-memorable" 19th of April.
If you would like to participate in the procession we ask you to bring your own enclosed candle lantern – real candles only – no flashlights or LED lights in the procession, please.
Wednesday, April 19, 2023
"Arrival of the Sudbury Militia"
North Bridge, Monument St, Concord, MA
Time TBD
Free
The Sudbury Companies of Militia and Minute will make their annual march to North Bridge in honor of their fellow townsmen who made the same march in 1775. They will fire volleys from North Bridge in a soldierly salute.
"Battle Road Anniversary Hike"
Battle Road, Minute Man National Historical Park
12:00 p.m.
Free, Registration required
On April 19, 2022, join National Park Rangers for an immersive five-mile guided Battle Road trail hike at Minute Man National Historical Park. Follow in the footsteps of the ill-fated British Column during the 247th anniversary of the Concord expedition. This experiential program will bring the stories of the Battle Road to life through guided interpretation and immersive living history elements. Learn about the trials and triumphs of those who experienced the bloody events of April 19, 1775.
After the program concludes at Fiske Hill, a pre-arranged shuttle bus will transport registered participants back to the parking area.
This program is free and open to the public; registration is required to reserve a seat on the post-program shuttle bus returning participants to their vehicles. Space is limited, so register early to reserve your spot on the shuttle bus! We'll provide the starting location and additional details to registered participants via email.
Registration will open in March 2023, please check back for a registration link. Click here to join our monthly email newsletter for updates on registration.
---
Support Patriots' Day at Minute Man
Please support Patriots' Day by donating to the Friends of Minute Man National Park. Your donation will ensure that today's and future generations will continue to enjoy Patriots' Day at Minute Man National Historical Park.
Patriots' Day commemorates the battles at Lexington and Concord that occurred on April 19, 1775. These battles marked the beginning of the American Revolution and Minute Man National Historical Park is dedicated to protecting and preserving the sites, battlefields, structures, and landscapes associated with April 19, 1775.
Patriots' Day activities at the park occur over one week and are free to the public. Each year thousands of visitors come to enjoy the battle demonstrations, living history, guided walks, vigils, and educational events available at the park. The Friends of the Minute Man National Park is committed to helping to defray the significant costs of these activities. Your donation supports the park and Patriots' Day activities.
Make a secure donation through Paypal:
Or, send a check to:
Friends of Minute Man National Park
174 Liberty Street
Concord, MA 01742
Thank You!