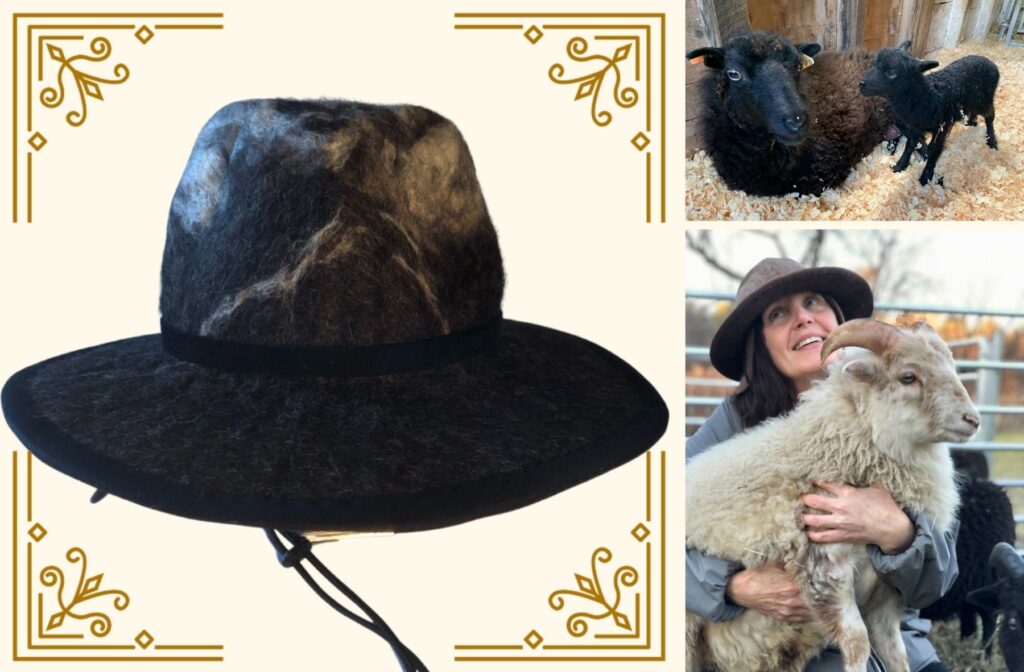 Purchase a wool fedora hat made from Minute Man sheep herd for $300
100% of sales to benefit sheep care!
Minute Man National Historical Park is delighted to host a herd of Ouessant sheep in cooperation with Breton Meadow Farm and Codman Community Farms, of Lincoln, MA. Now you can own a beautifully handcrafted fedora made from the wool of these lovely sheep! Thanks to one of our dedicated sheep volunteers, Martine Gorlier, each hat is handmade and unique – reflecting the color of the sheep it was made from! The custom-made hats also come with removable ear warmers to keep you warm and cozy this winter.
The wool fedoras are sold by Martine for $300 each and she donates 100% of the sales to the Friends of Minute Man National Park. We are restricting the donated funds for the care and maintenance of the Ouessant herd including feed and veterinary visits. So far, Martine has sold four hats and donated $1200 to the Friends!
In addition to her volunteer work at the park, Martine is a sculptor and fiber artist. She was inspired by the wool from the Minute Man herd and noted that she "could tell that this wool was a special one, one that could follow the movement of your hands, a wool soft enough but with firm body that can hold a shape very well. It has the perfect quality to be processed through felting technique, creating a rustic yet sophisticated hat."
Hat sales are managed by Martine Gorlier with 100% of the proceeds going to the Friends of Minute Man National Park. Please email Martine directly at mg.sculpturepassion@gmail.com to purchase your one-of-a-kind hat today!
Images (left to right, clockwise): A handmade wool fedora; April and her lamb in spring of 2021; Martine Gorlier, park volunteer with the Ouessant herd and wearing one of her handmade hats.