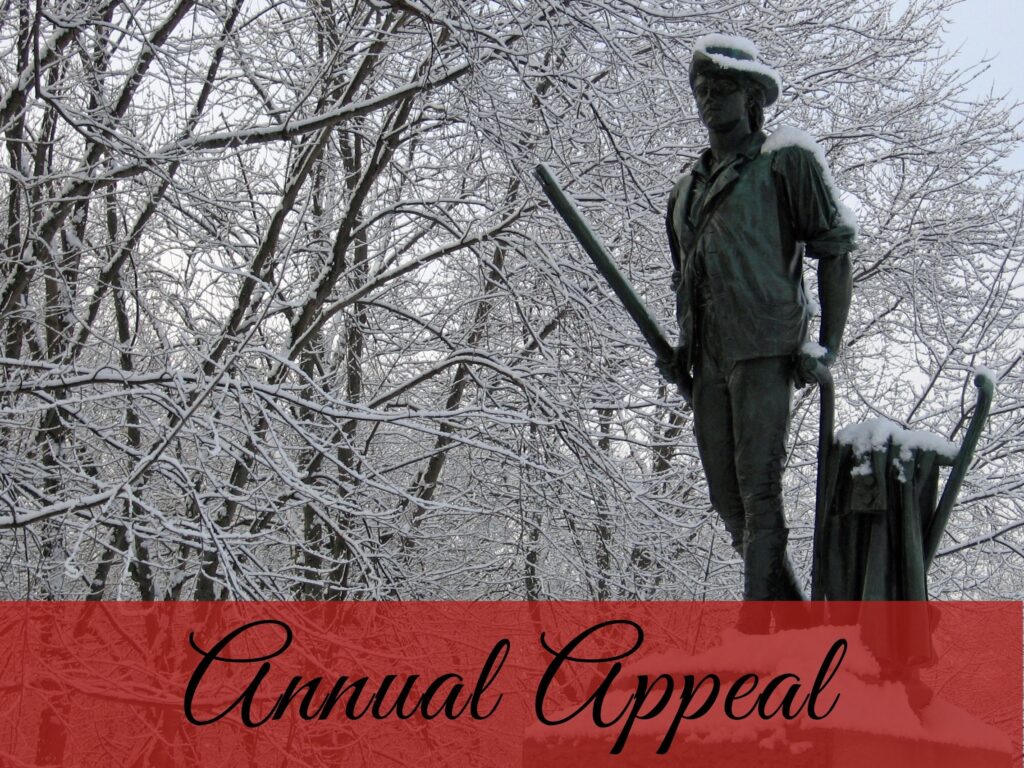 Give a Gift to Minute Man
Pay Securely via PayPal
Consider a monthly donation!
Or, send your check or donor-advised funds to:
Friends of Minute Man National Park
174 Liberty Street
Concord, MA 01742
December 2021
Dear Friends and Supporters,
Thank you for your continued dedication to and support of our beautiful Minute Man National Historical Park. Please consider a year-end gift to the Friends of Minute Man so that together, we can preserve and protect the birthplace of the American Revolution for generations to come.
As our country completes a second year of the covid pandemic, the Park's value has become even more evident. The scenic trails, famous landscapes, and historic sights continue to serve as a welcome respite for hundreds of thousands of visitors.
Despite the challenges and changes the pandemic has imposed on our work this year, the Friends of Minute Man has played a highly active role in sustaining the Park. With your support, the Friends were able to:
Secure and manage a major grant from the Concord Community Preservation Fund that enabled us to rehabilitate and preserve the historic Buttrick gardens overlooking the North Bridge.
Provide publicity for the Park's Virtual Patriots' Day events.
Assist the Park through an early spring staff shortage by funding a "Community Ambassador" position along with Freedom's Way National Heritage Area.
Offer a new free bird walk which sold out in one day.
Continue our Winter Lecture Series which included a online presentation on historic stone walls at Minute Man.
Co-host children's events, including a Halloween celebration at Hartwell Tavern and a tree planting at the Wayside, Home of Authors by the Massachusetts Society of the Children of the American Revolution.
Join us in showing your support for the Park with a year-end donation to the Friends of Minute Man today. Please give as generously as you are able – $50, $100, or more goes a long way. You can donate by using the enclosed reply envelope or visit our website at www.friendsofminuteman.org/annual-appeal, where you can make a secure online donation.
We thank you for your ongoing support and wish you and your family a safe and healthy holiday season ahead.
Sincerely,

Bob Morris
President
Friends of Minute Man National Park
To learn more about how your gift may be tax-deductible this year, click on the CARES act.