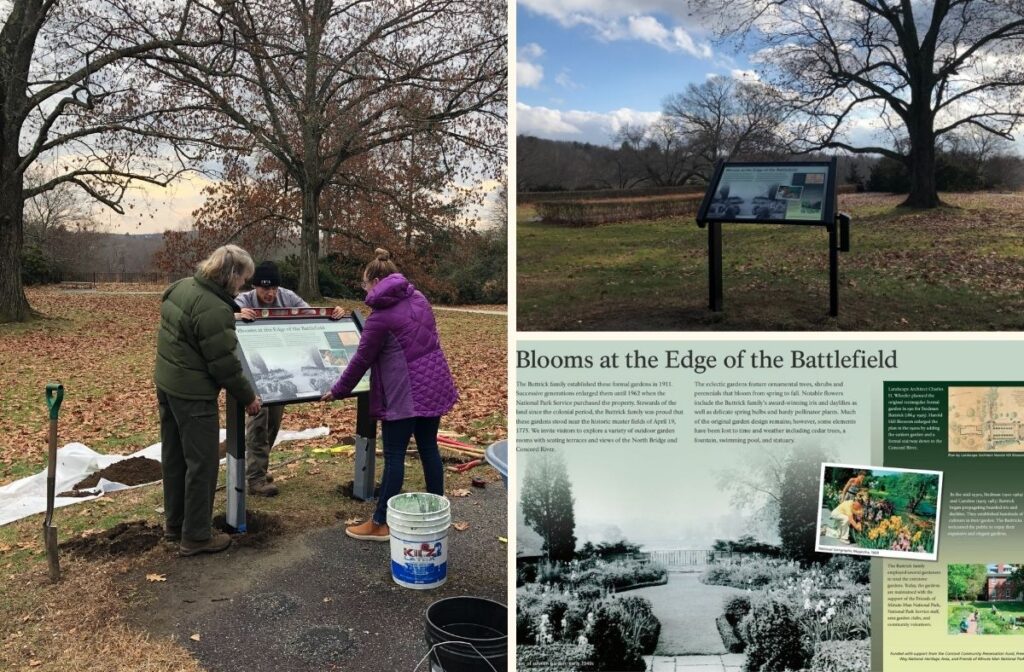 New Buttrick Gardens Signage Installed
Want to learn more about the history of the Buttrick Gardens while visiting the park? Check out the new educational signage installed overlooking the gardens. The Friends of Minute Man and park staff worked cooperatively over the past year to research and design the new sign and we were able to install it before the first freeze. We are thrilled that visitors will now be able to view historic photos and learn about the history of the Buttrick Gardens any time of the year.
Stop by for a winter walk at the North Bridge and learn about the gardens. Please note that there is a brochure holder on the side so if it's too cold to stop, grab a brochure and read at home! Thanks to Freedom's Way National Heritage Area for providing a grant to fund the sign and brochure project at Minute Man National Historical Park. Thanks to the Concord Community Preservation Fund for the concurrent garden preservation project.
The Buttrick Gardens are located next to the North Bridge Visitor Center at 174 Liberty Street, Concord, MA. To learn more about the gardens or make a donation, check out our Buttrick Gardens webpage.
Can't wait to visit? Below are images of the wayside and brochure. Scroll further down to view the installation that occurred on a warm December day in 2021.