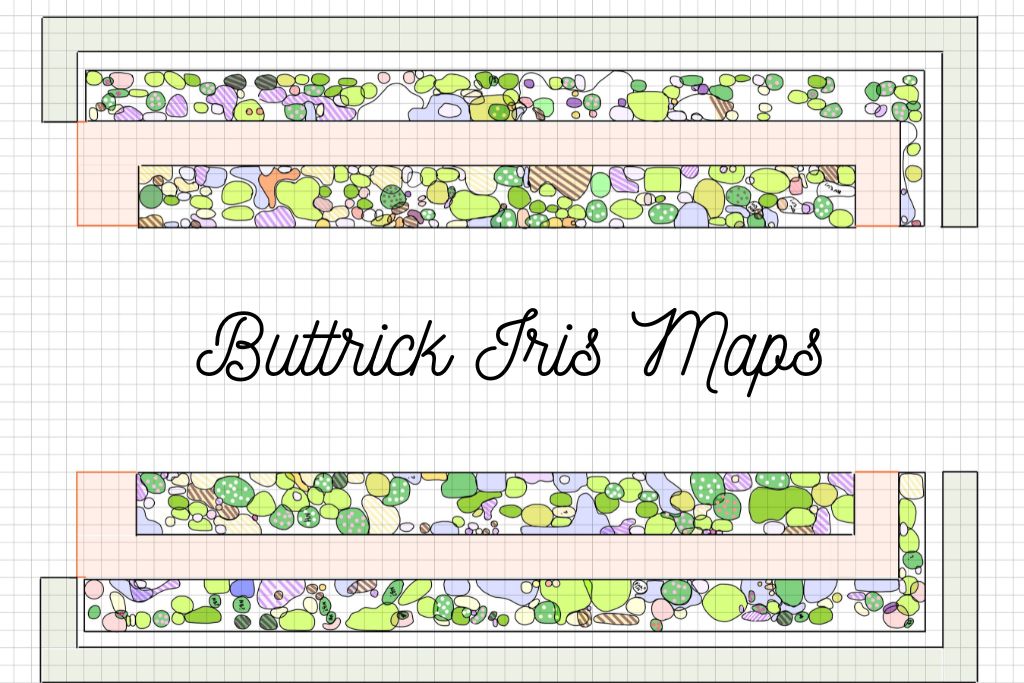 Written by Sophie Cooke, Friends of Minute Man Buttrick Gardens 2022 summer intern. 
My work this summer centered on the Buttrick Gardens iris collection. In the early 1960s, the Buttrick gardens contained roughly 200 iris cultivars tended by Stedman Buttrick II. Due to time, weather, and disease about 20 of the original iris varieties remain. 
While we cannot replace all the cultivars lost from the gardens, we can do our best to restore the existing iris beds and ensure each iris variety gets its proper place. I set out to document the existing conditions of the iris plants, including the number of varieties and their locations throughout the gardens. I drafted new plans for arranging the iris within each bed so that each variety stands out in distinct clusters. 
While mapping the existing conditions, I also tagged every existing iris cluster with a note about its color, height, and date of first bloom. Once the irises go out of bloom in early June, it is nearly impossible to tell what color flower the plant produces. To rearrange the iris according to the new planting plans, we need to know what colors we are digging up. The tags and my existing conditions maps tell us where each color can be found.
Iris moving and re-arrangement is happening this September when the iris are dormant. To ensure success, staff and knowledgeable volunteers will dig out the existing dormant iris throughout the garden, improve the soil, divide, and then replant them in new designated locations according to my maps. We will propagate many iris varieties that are currently underrepresented in the gardens. Propagation is accomplished by breaking apart the plant's rhizome (a tuber-like root). Come next May, the fruits of this labor will come to life as the iris bloom again. 
Click here to learn more about the Buttrick Gardens. Would you like to support our 2023 summer student garden internship? Please click here to donate!
Scroll down for more pictures and information from Sophie.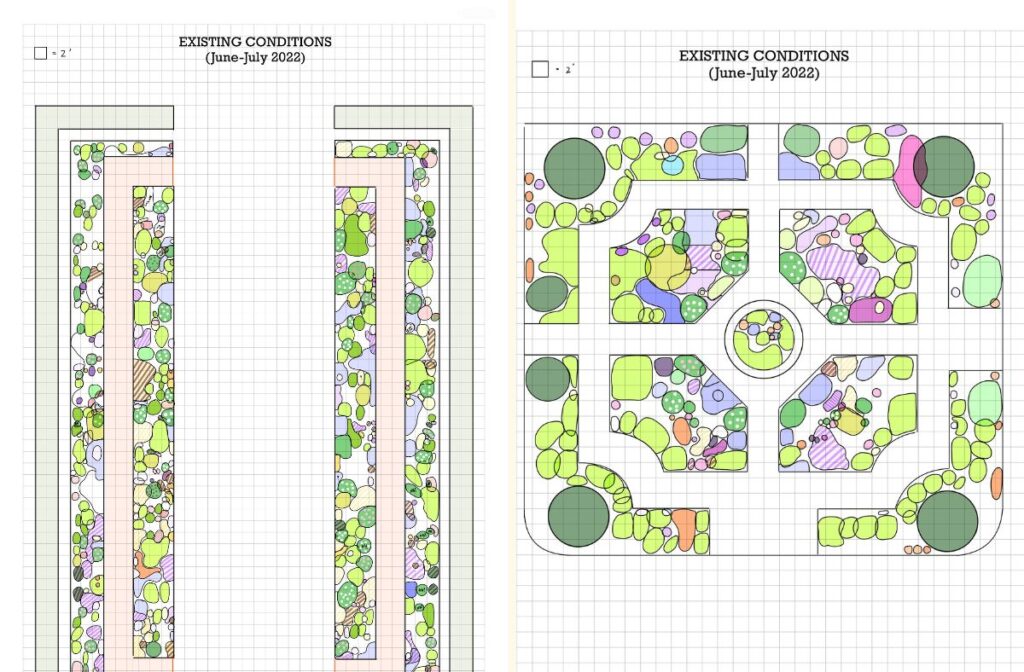 Image above from left to right. Left: flower map of the formal gardens at the Buttrick Gardens. Right: flower map of the sunken gardens at the Buttrick Gardens. Irises are identifiable to staff and volunteers with a color-coded key to the maps. Key to flower locations is not published for security reasons.
Many of the existing iris clusters are irregular and crowded out by other plants. In the new planting plans, the irises are more intentionally laid out in specific clusters. We know from photographs and maps of the original Buttrick gardens that Stedman Buttrick methodically arranged the iris to keep track of all varieties and control crossbreeding.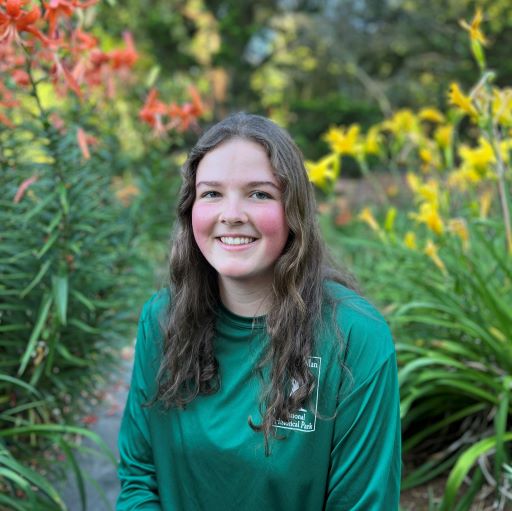 Image above: Sophie Cooke in the Buttrick Gardens at Minute Man National Historical Park. Sophie served as the Friends of Minute Man summer garden intern. Sophie Cooke is headed into her second year at McGill University in Montreal and is currently studying environmental science and geography with a minor in art history. 
I would like to thank Suzy Buttrick and the Friends of Minute Man National Park for making this internship possible. I would also like to show my abundant appreciation for all the Minute Man National Historical Park's Resource Management Team's guidance and help. Margie Brown has led me through this project and along the way taught me countless new things about the horticulture and landscape architecture fields. I am very fortunate to have had such a knowledgeable mentor. Thank you to Kiah Walker and Ada Fox for welcoming me to Minute Man and teaching me so much about the park, especially its invasive plants. I can confidently go out and tackle all the bittersweet in my backyard now! Thank you also to my fellow interns for making this internship such a fun way to spend my summer. Finally, thank you to all of the garden volunteers as well for all of their work and for teaching me so much about the gardens. I am so happy to have met you all and learned so much together. Have a wonderful year!
Would you like to support our 2023 summer student garden internship? Please click here to donate!