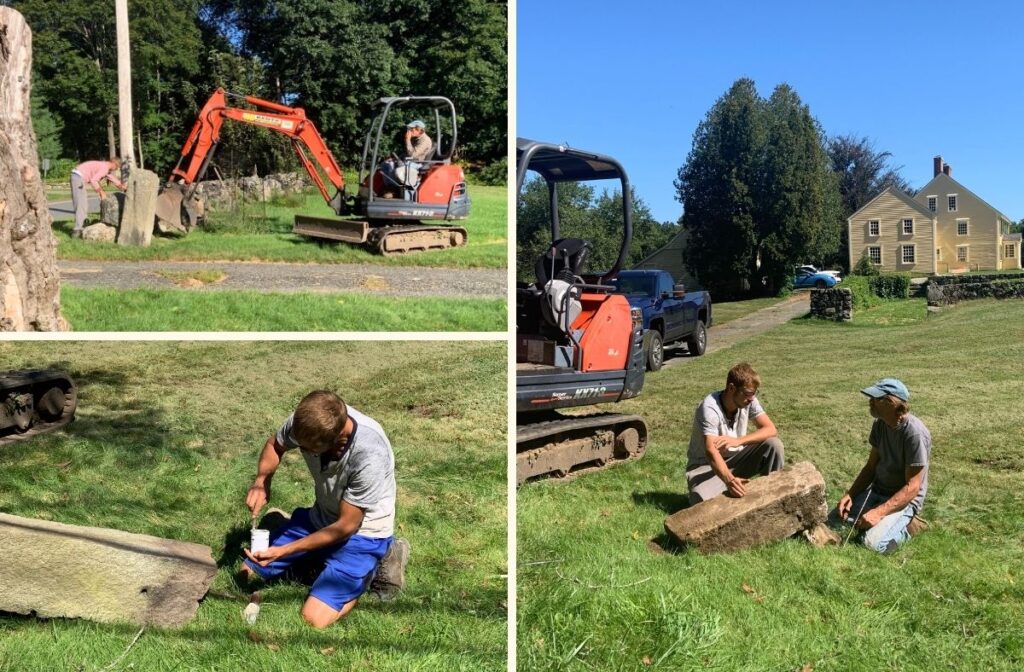 Written by Rachel Carmen Farago
Thanks to a generous donation to the Friends of Minute Man National Park, two granite posts located on the grounds of the Major John Buttrick House were recently repaired and reset. The historic granite posts mark the entrance to the property which stands across the street from the North Bridge Visitor Center at Minute Man National Historical Park.
After many years of service, the posts had started to settle and lean. Nobles Stone Masonry used an excavator to carefully dig and lift the heavy granite posts from the ground and reset them. During this process, they discovered that one of the posts was cracked in half, which required them to put the two pieces of granite back together with conservation-grade adhesive before resetting the post.
While the digging and repairs took place, archaeological monitoring was performed by Minute Man National Historical Park curator Nikki Walsh and intern Rachel Carmela Farago in case any artifacts were unearthed in the process.
Just in time for winter, The posts are now upright and look as good as new!
To learn more about the history of the Major John Buttrick House, please visit the Minute Man National Historical Park website.
Images above from left to right, clockwise: Stan Nobles using an excavator to remove a granite post as curator Nicki Walsh looks on and monitors for archaeological artifacts. Alex and Stan Nobles discuss how to fix the broken post. Alex applies a conservation-grade epoxy to repair the post.
Written by Rachel Carmela Farago, NPS Landscape and Garden Steward. Rachel is assisting with various conservation and restoration projects at Minute Man National Historical Park as she completes her master's degree in Historic Preservation at Boston University.