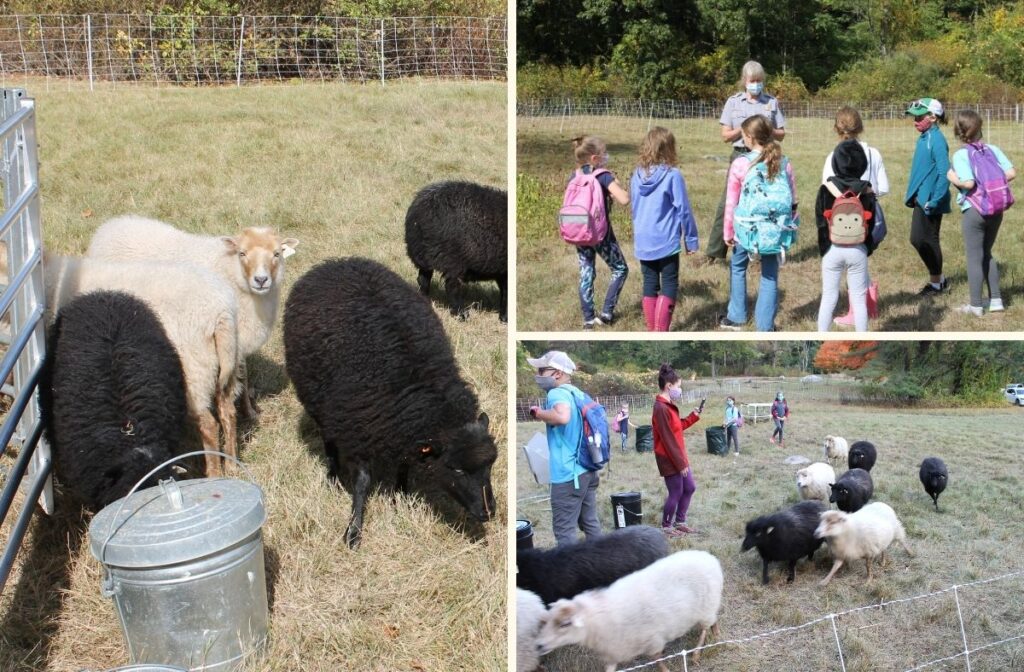 Minute Man National Historical Park is home to a herd of twelve female miniature sheep. On a recent Saturday, Girl Scout Troop 82124 from Waltham, Massachusetts assisted with rotational grazing of the herd in the pasture near the Minute Man Visitor Center. The sheep are moved to a new grazing area once a week to forage on grasses, herbs, and leaves. Fortunately, the sheep enjoy invasive plants such as poison ivy leaves, glossy buckthorn, and bittersweet.
The Troop 82124 has been making regular visits to the park since last fall and have cleaned park signs, picked up trash, and most recently helped manage the sheep. As a result of their volunteer efforts, each girl has earned a National Park Service Girl Scout Ranger badge. Thank you to the hard-working girls of Troop 82124 for volunteering their time and skills to the park!
The sheep are owned by Codman Community Farm and are miniature 'Ouessant' sheep bred by Breton Meadow Farm of Lincoln. The ladies start the year off at the Carty Barn, are rotated to a variety of meadows near the Minute Man Visitor Center, then move on to visit the Hartwell Taven area. In addition to foraging, the sheep are provided with water, hay, livestock grain, whole corn, and a mineral feeder. The flock is kept safe with a solar-powered electric fence and is checked daily.
To view the sheep, park at the Minute Man Visitor Center on Rt. 2A; the grazing areas are all visible from the Battle Road Trail. If you visit later in October, the sheep may have moved to the Hartwell Tavern area, also on Rt. 2A; please refer to the park map. The sheep are surrounded by an electric fence so please take care and enjoy the herd from afar.
Volunteers interested in assisting with sheep rotations can contact the park's Resources Manager Margie Brown at margie_coffin_brown@nps.gov.
Images: Girl Scout Troop 82124 and park staff member Margie Brown tending to the sheep and the girls displaying their 19th Amendment Quilt.