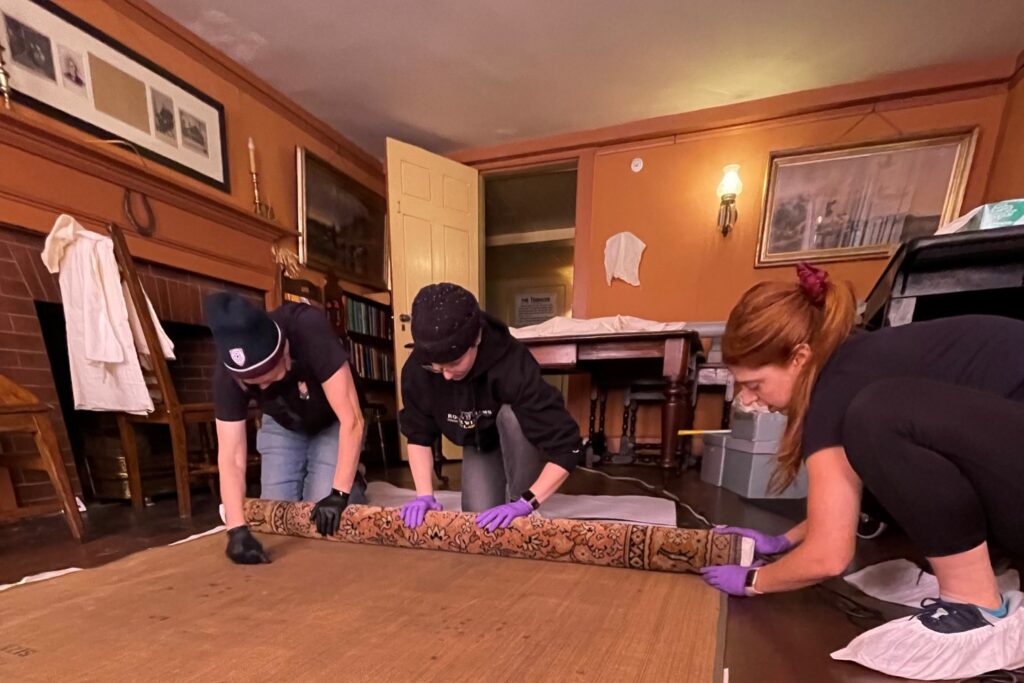 Written by Nicole Walsh, Curator at Minute Man National Historical Park
It's spring cleaning time here at Minute Man, and The Wayside: Home of Authors recently received a lot of curatorial TLC from park and regional staff. Thousands of objects in the home were inventoried to ensure they were accounted for and in the correct location in relation to the database. Next, objects were dusted and cleaned. Keeping the objects clean ensures they will be preserved for as long as possible. Finally, cleaned objects were packed, covered, or rolled to protect from dust, mold, pests, or UV rays which can all cause damage to the objects.
To learn more about historic housekeeping at the Wayside check out this 2016 Northeast Museum Services Center blog post by our now-Curator Nicole "Nikki" Walsh.
Stay tuned for more information about special events at the Wayside this year!
Image above: National Park Service curators rolling a historic 19th-century rug at The Wayside: Home of Authors during spring cleaning. Image below, left to right, clockwise: Shelf of books at The Wayside; National Park Service archivist dusting and cleaning a book at The Wayside; exterior of The Wayside.