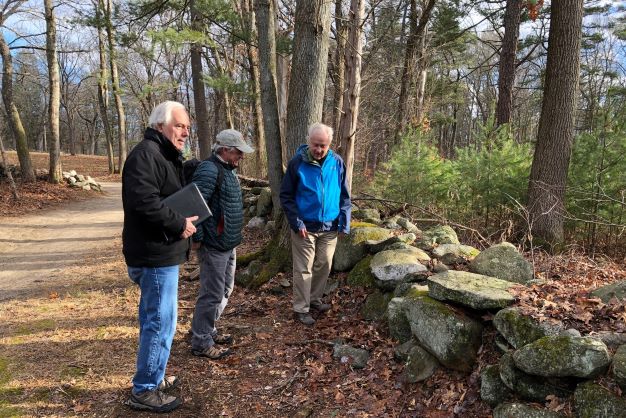 Historic stone wall researcher Richard T.T. Forman recently took the Friends of Minute Man and park staff on a tour of historic stone walls in Minute Man National Historical Park. Richard is a landscape ecologist and Professor Emeritus at Harvard University.
On a sunny day in January, we took a two-hour walk through Battle Road and the park's forests; we saw single stone walls used for livestock and double stone walls used for cultivation. Some walls were original, while others have been changed or rebuilt in distinctive recognizable forms. This stone wall research will help inform the interpretation of the battle at Elm Brook Hill, also known as Bloody Angle.
Want to learn more about historic stone walls at Minute Man? Click here to view the video recording of our 2021 winter lecture "Stone Walls of Minute Man National Historical Park" by stone wall expert Prof. Robert Thorson.
Image above, left to right: Bob Morris, President of the Friends of Minute Man, Joel Dukes, Archeologist with the National Park Service, and Richard T.T. Forman, ecologist and stone wall researcher, viewing a double stone wall along Battle Road.
Support the Friends of Minute Man by becoming a member today!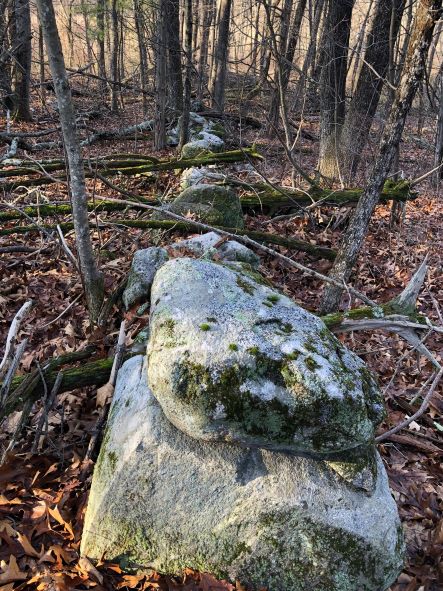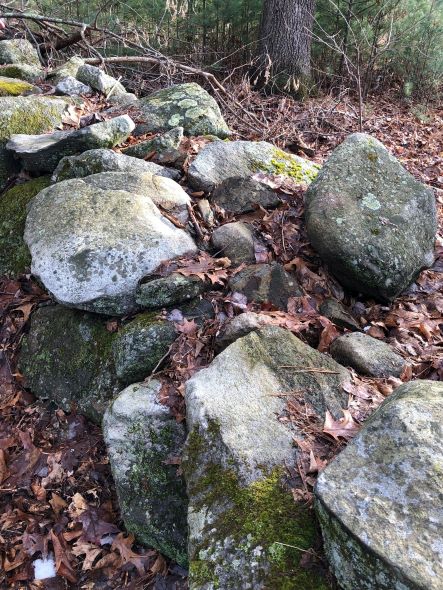 This double stone wall was adjacent to crop cultivation and is located off the trails of Battle Road. A double wall is constructed of two lines of larger stones with a V-shaped area in the middle to place smaller stones that appear with yearly frost-heave cycles on cultivated soil.