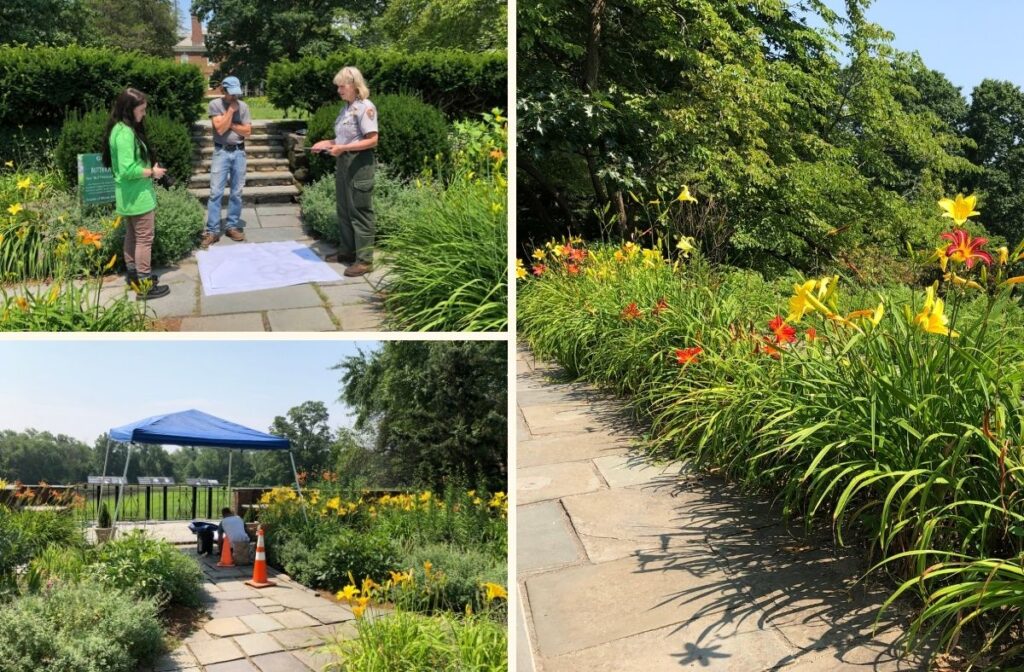 By Rachel Carmela Farago
The Buttrick Gardens hardscape preservation project at Minute Man National Historical Park has come to a close just in time to be enjoyed by visitors this fall! The project was made possible through a $100,000 grant secured by the Friends of Minute Man National Park from the Concord Community Preservation Fund. The extensive historic gardens are located next to the North Bridge Visitor Center and are enjoyed by thousands of visitors each year. The garden hardscape restoration included resetting and leveling brick and bluestone walkways; adding a new, safer stairway and handrail to the sunken garden; and replacing missing cobblestones in the pathway leading to the Concord River.
The historic Buttrick Gardens date to 1911 so care was taken to preserve the historic integrity of the gardens during preservation. Margie Brown, Minute Man's Natural & Cultural Resource Manager, worked with Boston University intern Rachel Farago to make sure the restoration project closely followed the original design. Years of wear resulted in smaller, broken pieces of bluestone in the sunken garden. Margie and Rachel used historic plans and images from the park archives to determine the proper size, shape, and pattern for any replacement stones.
The project was carefully and skillfully completed by Nobles Stone Masonry. Stan, Stan Jr., and Alex Nobles spent many hot and rainy summer days using their talents to restore the Buttrick Gardens hardscape. The results of their hard work have provided visitors at Minute Man National Historical Park with beautifully rehabilitated gardens to enjoy for many years to come!
Images from left to right, clockwise: Alex Nobles at work in the sunken garden; Rachel Farago, Stan Nobles, and Margie Brown plan the bluestone preservation; a finished section of bluestone with daylilies in bloom.
To learn more about the Buttrick Gardens restoration project, check out our garden preservation webpage.
Written by Rachel Carmela Farago, NPS Landscape and Garden Steward. Rachel is assisting with various conservation and restoration projects at Minute Man National Historical Park as she completes her master's degree in Historic Preservation at Boston University.