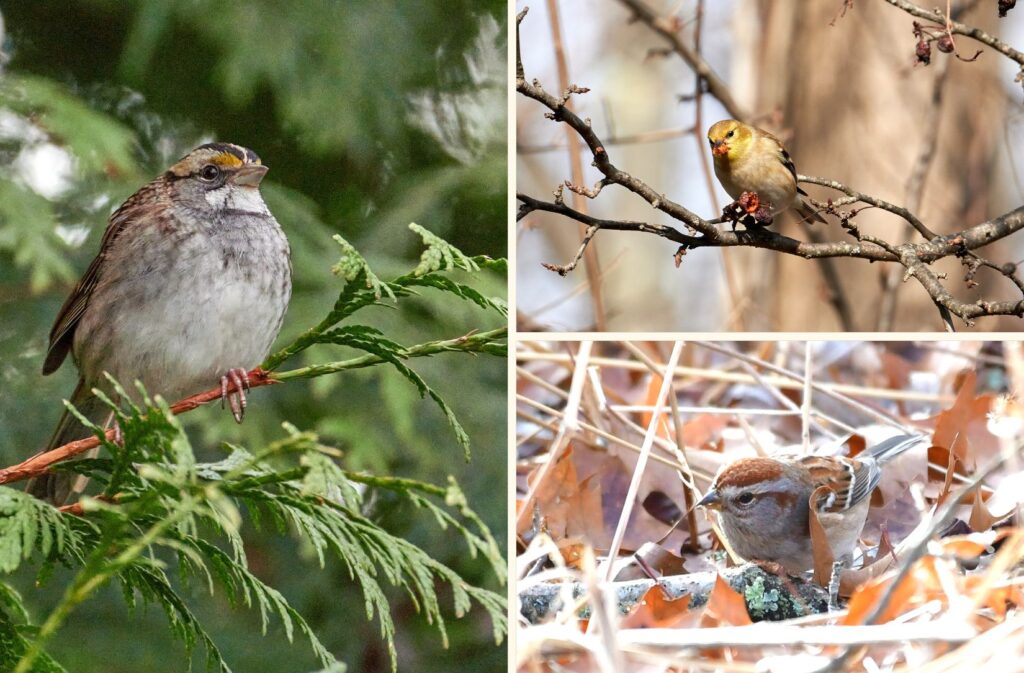 Written by Kiah Walker, Biologist at Minute Man National Historical Park.
Why do birds migrate? Rather than avoiding the cold (like human "snowbirds"), they're usually searching for more abundant food. While many birds head to South America, New England's resident species and other short-distance migrants have developed specialized feeding strategies to sustain themselves year-round. You may notice birds excavating insects, scrounging seeds, gorging on berries, hunting smaller birds and mammals, scavenging roadkill, or even stashing food for later. In our region, common overwintering species include American Goldfinch, Black-capped Chickadee, Cedar Waxwing, Mourning Dove, Northern Cardinal, and White-breasted Nuthatch. Short-distance migrants, which travel from points north, include American Tree Sparrow, Dark-eyed Junco, and White-throated Sparrow. During the recent Christmas Bird Count, observers specifically noted a variety of winter birds along the Concord River near the North Bridge, including an American Tree Sparrow, a Bald Eagle, and three species of woodpecker. This area provides especially beneficial bird habitat due to a combination of open water, dense shelter, and ample food.
When possible, Minute Man National Historical Park strives to improve food sources for overwintering wildlife in several ways. Firstly, we promote the growth of native plant species. In general, native wildlife prefer the fruits and seeds of native plants, which are often more nutritious. Native plants may be outcompeted or smothered by invasive plants, so park staff and volunteers work year-round to remove invasive species in priority areas. We also actively restore native plants on some sites. For example, volunteer Walter Kittredge recently led an effort to plant various native flowers on a hillside overlooking the banks of the Concord River. We have already observed both pollinators and birds, such as a Yellow-rumped Warbler, foraging amongst the newly established wildflower patch. To ensure that birds and other wildlife can access native seed sources during the colder months, we leave these flowers standing throughout the winter. We are also evaluating our field mowing practices. By delaying mowing until spring, we can ensure that native plants provide food and shelter during the winter, making the park a haven for local wildlife.
Have you noticed any overwintering birds or other wildlife at the park this year? We welcome your observations via eBird or iNaturalist. Check out our bird list for more information!
Support the Friends of Minute Man by becoming a member today!
Thank you to Cris Van Dyke and Kathy & Jay Dia for sharing their recent photographs of birds in or near Minute Man National Historical Park in early January 2023.
Images above, left to right clockwise: White-throated Sparrow by Jay Dia, American Goldfinch by Jay Dia, American Tree Sparrow by Cris Van Dyke.
Images below: additional birds seen in or near Minute Man National Historical Park in winter 2023.