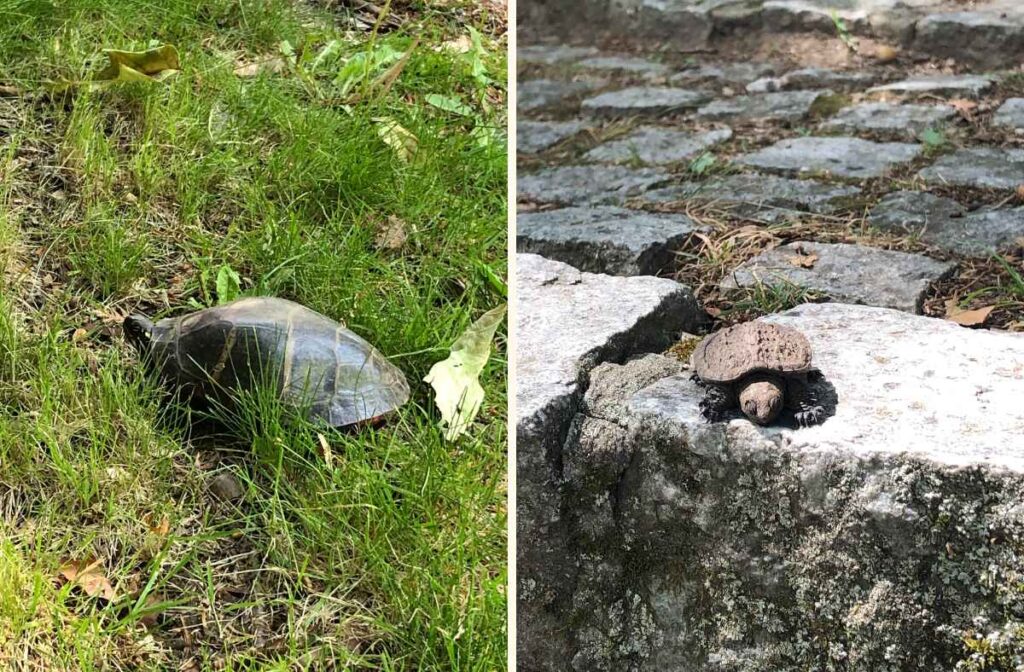 Minute Man National Historical Park is home to five identified species of turtles, including the painted turtle, snapping turtle, Blanding's turtle, spotted turtle, and the eastern musk turtle.
We recently spotted a painted turtle (pictured on the right) near the North Bridge Visitor Center, up the hill from her home at the Concord River. This lady was about 5-6″ long and was probably looking for a good place to lay her eggs which will hatch in late summer to early fall. Although not visible in this picture, she featured colorful markings on her extremities.
Last year, we spied several snapping turtle hatchlings (pictured on the left) on the terrace of the Buttrick Gardens in early September. This wee visitor was about 1.5″ long and we're not sure if they managed to get down that large step! Snapping turtle hatchlings usually emerge from their shells on land in August to October and instinctively head for the nearby Concord River.
We haven't seen a Blanding's turtle, spotted turtle, or eastern musk turtle yet but we'll be on the lookout. Have you seen one? Log your findings into iNaturalist! Minute Man is a designated place with multiple projects on iNaturalist, an on-line citizen science database. Help the park track all wild species (mammals, bird, insects, plants, etc.) and behavior by adding your observations to iNaturalist whenever you visit.
Image, left to right: An adult painted turtle near the North Bridge Visitor Center in June 2023 and a snapping turtle hatchling in the Buttrick Gardens in September 2022.
Click here to learn more about turtles at the park.
Kathleen D. Fahey, Executive Director, Friends of Minute Man National Park, June 2023
Support the Friends of Minute Man by becoming a member today!