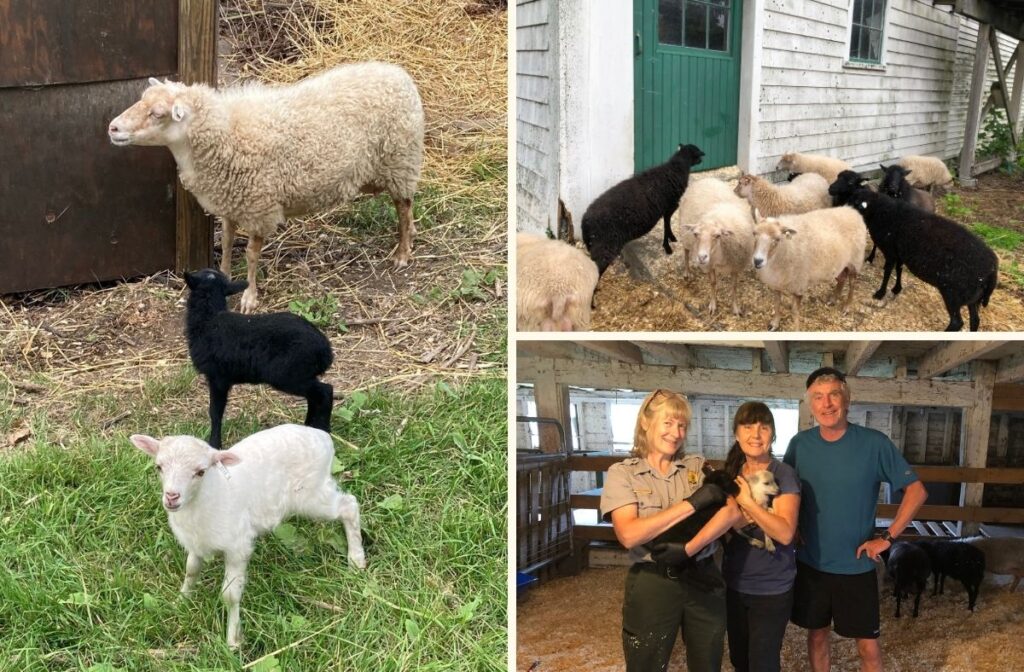 Thank you to the dedicated staff and volunteer stewards who have been monitoring our very own maternity ward at Minute Man. The Carty Barn is home to a herd of Ouessant sheep thanks to a special use permit with Codman Community Farms and collaboration with Breton Meadow Farm. A ram was introduced in February resulting in 14 pregnant ewes that gave birth from late July to mid-August.
There have been many trips to the barn by our lambing volunteers and many visitors – as one would expect at a maternity ward filled with adorable lambs, each weighing 3 to 5 pounds at birth. Two weeks ago we were wondering what to expect (as drawn by sheep steward Janet Lane below) and now we have 15 lambs which include a set of twins!
Each day volunteers arrive to feed, water, and monitor the moms and their babies for any health issues. Newborns and moms are kept in the barn for a few days and placed in a "jug," a portable pen that provides a safe and private place for them to bond. After a few days, they join the herd outside to enjoy fresh air and grazing along with plenty of food, water, and shelter.
Although the Carty Barn is not open to the public, you can currently see the sheep as you walk along the Minute Man NHP Battle Road Trail between the parking lots at Meriam's Corner and Brooks Village in Concord. Soon, the herd will be rotated through the park to access fresh grazing areas near Minute Man Visitor Center.
To learn more about the sheep at Minute Man, read these past blog articles: Sheep Shelters by Scouts, Sheep on the Move, Sheep Shearing at Minute Man, and Sheep at Minute Man.
Images above, clockwise from left to right: White and black-colored lambs; the herd outside the Carty Barn; staff and volunteers at work inside the barn including Margie Brown, Minute Man's Natural & Cultural Resource Manager, along with sheep stewards Martine and Ray.
Images below: a whimsical drawing of our expectant mothers by sheep steward Janet and photos by sheep steward Peggy.